Walking Distance at Gallery Naga
Friday, September 6, 2019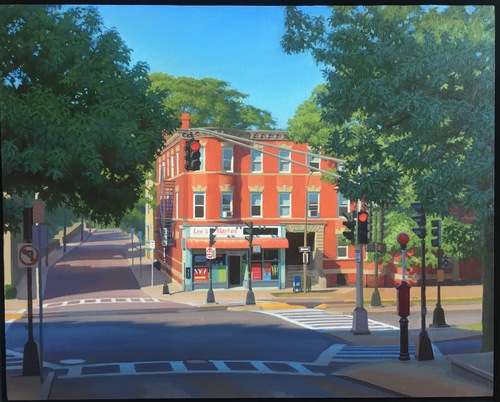 Coming Up:

"Walking Distance" is the title of my exhibition of recent paintings to be held at Gallery Naga, (67 Newbury Street, Boston 02115) this coming September, from September 6-27. The opening reception will be Friday night September 6 from 6-8 pm.

I will be participating in a group exhibition of artwork created by Fenway Studios Artists at the Massachusetts Historical Society, 1154 Boylston Street, Boston MA, for the entire month of October, 2019. Opening reception is Thursday October 3, 2019 and can be found on the MHS calendar, masshist.org.

Fenway Studios Fall Open Studios will be occurring on November 9 + 10, 2019 at 30 Ipswich Street from 11-5. I'll be open and in my studio, #311, to show and sell recent work. Please come looking for a deal and bring your checkbook!

The painting, Lee's Market (can be seen in Recent Paintings on this website) is on display and available for viewing, as is The Cabinet of Donald Trump drawing, at Gallery Naga, 67 Newbury Street.

Follow me on Facebook, Instagram and Twitter. Occassionally, I post what I've been painting during the day, usually on Instagram but often on Twitter as well. If you'd like to see what's on the easel, check them out. Links below, but look up Ed Stitt on any of them if you can't find the link.



ONGOING:

My First Forty Years Ed Stitt Paintings and Drawings
A show of my best work; of at least one painting or drawing from each of the last forty years, was on view free to the public at Gordon College's Barrington Center for the Arts. The show was up from February 27-April 27, 2016. There were 87 paintings and drawings on display; many on loan from gracious owners, some are still for sale. A lovely CATALOGUE was created and is available for sale ($65) from Blurb which I will included in a link below. Many of the entries and images from the catalogue are on this website at the bottom of the Paintings page under My First Forty Years.

GALLERY NAGA (67 Newbury Street, Boston MA 02116... GalleryNaga.com) continues to represent me and has select works of mine for viewing. You may see them by visiting and requesting to see them (they look a LOT better in reality than on a computer or phone screen). See the link below for more info.

Good friend and good painter Chawky Frenn has compiled a book called 100 Boston Painters (Schiffer) and has kindly included me. I'm even on the cover! Currently available from Schiffer and at Amazon.com.

DECORDOVA MUSEUM AND SCULPTURE PARK Lincoln, MA. Two of my paintings in the permanent collection can be viewed during regular museum hours. Also, check out the well done video of me working on my painting, Alley Behind Sparrow Park, which is under Archives on this web site, in the Children's room.

DANFORTH MUSEUM OF ART Framingham, MA. The Danforth owns at least one of my paintings and occasionally shows it. Contact them to find out if it is up.

Having said the above, if you would like to see any of the work on this website "face to face" for potential purchase, call me at (617) 312-2165 or use the contact on this website.